Ruth Holmes Cordahi with Tony at the home of Bill and Carolyn Pollock, 2013
Tony passed away overnight (25 September 2019) after being taken to hospital. I feel so fortunate that Sherri and I decided to visit Tony in Aiken, SC on Sunday and again on Monday morning this week before continuing on to Savannah for a Navy ship reunion.
Tony was remarkably cogent and his body failed while his mind prevailed. He was 87. We chatted in English on Sunday, in French on Monday. He seemed so relaxed and happy to do so with a crisp memory of people and events.
Thanks to Bob and Donna Kraft for helping with our visit, and to Naomi and Nathan for caretaking.
Tony will forever be part of my heritage.
Stephen Brooks
View the Antoine Nicolas Cordahi obituary HERE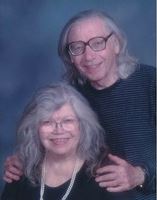 Please share your memories in the comment section below.