Nemat Shafik is shown in the class of 1979 – read the article about Shafik in The Gaurdian below –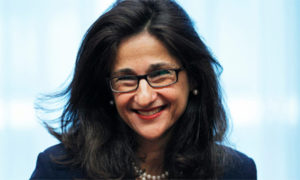 A deputy governor of the Bank of England has quit after just two years in one of the most prominent central banking roles.
Dame Nemat Shafik, better known by her nickname Minouche, had a five-year contract at the Bank but resigned to become the first woman to run the London School of Economics.
The Egyptian-born economist, who is a British and US national, was appointed when the Bank was undergoing a restructuring under the then new governor, Mark Carney.
Read the article on The Guardian