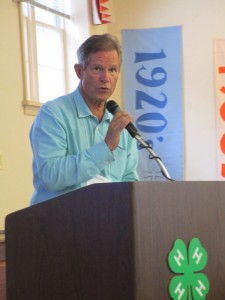 Paul Clark attended Schutz from the middle of fourth grade in February 1960 to the end of 10th grade in 1966. He completed high school at Colorado Academy in Englewood when his Foreign Service father was posted to Denver University's Graduate School of International Studies as a visiting professor for a year, and attended Colorado College graduating (on time!) in 1972 with a liberal arts degree as a political science major (not exactly worthless, but you know what he means…). He enjoyed moving to Colorado after Schutz, became a carpenter building houses in Colorado Springs and a few other places, became a lifelong skiing lover, did the Marble, Colorado Outward Bound as an incoming CC dorm resident advisor his junior year, ran the college newspaper during his senior year, ran track and played soccer for CC as a freshman, played in a rock band…yes, Tony's Boys was not just a fluke.
He tried a short stint as a newspaper reporter in Massachusetts right after college, but the call of the international life he knew from early childhood (Damascus and Tokyo before Schutz and Yemen during 1965-66 when he was a Schutz boarder) drew him to Washington in 1974 for a Master's Degree at American University's School of International Service. He joined Senator Gary Hart's staff in 1975 while he completed his degree then went over to the Senate Budget Committee staff from 1977-80. It was a wonderful way for him to get to know real political "science," back when Congress actually worked as an institution…
In 1981 he was invited to be part of the international program of the National Rural Electric Cooperative Association, and has spent the past 35 years working on projects throughout the world to bring electricity to the rural poor. From 1991 to 1994 he ran NRECA's Latin America-Caribbean program, living in Costa Rica with his wife Molly (also a CC grad) and four adopted children from Bogota, Colombia, returning as Vice President of the international program which he held until 2008 when he "retired" – ever since he has worked as a consultant for NRECA, serving also on the Board of the Overseas Cooperative Development Council in Washington, D.C. He has led several project teams over these past seven years, in Philippines where he set up a private electric cooperative financing corporation and in Yemen and Uganda where he worked in World Bank funded projects to formulate national rural electrification organizations and programs. He is currently organizing a national electrification program in Ethiopia and guess what? – it is likely to involve the Ethiopian protestant church organization that grew out of the work of the missionary families back in those Schutz days, the Kurtzes, Haspels, and many others. Life goes in a big circle for some of us, doesn't it?
Paul is very happy to be back in the Schutz fold, now having served on the Schutz Alumni board since 2012. He lives in Falls Church, Virginia. Wife Molly, a lawyer, works for the Board of Immigration Appeals in the Justice Department.