BEHOLD THE DREAMERS – 2018

2018 Reunion – Book Club Meeting
The Schutz Book Club met at the 2017 reunion at the Stultz Farm and it was declared a great success that should continue.
The book chosen for the 2018 Grand Reunion in Portland, Oregon, will be Behold the Dreamers by Imbolo Mbue, a novel about Cameroon immigrants to the U.S. during the financial crash of 2008. The immigrant story is timely and relates to our experiences as TCKs.The book was chosen for the Oprah Winfrey book club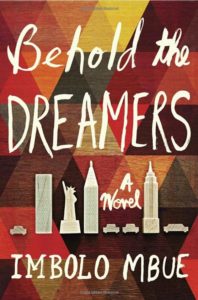 Find on –
Amazon
Goodreads
Random House Books

Book Club Questions:
Mother Theresa talks about the "deep poverty of the soul" that can afflict the financially wealthy. How is this reflected in the book?
The recent African immigrants dream of one day shopping at Target, like rich people do. Are there ideas you had about the US that now strike you as innocent, naive or cute?
Did you have anxious thoughts about the protagonists of this story as you read? A fear that, "this can't turn out well"? What about US culture gave you those fears?
Who can take credit for what went well for these folks?
Who can take blame for what went badly?
JOIN IN ON THE DISCUSSION FOR "BEHOLD THE DREAMERS"